Current Real Estate Market Update for Minneapolis, St. Paul MN October 2011
3 BR 2 BA Home For Sale at 4569 Grimes Avenue N. Robbinsdale, MN 55422
Click For Listing Website
Click For Interactive e-Tour
For those looking for that meticulously maintained 3 bedroom, 2 bathroom home in the Robbinsdale area near Highway 100 and France; look no further. This fabulous home features incredibly great bones, hardwood floors, concrete driveway, coved ceilings, eat-in kitchen and a fabulous living and dining area that serves well to the 3 bedrooms on the main level. The lower level is finished and currently serves as a family room and den area with quality mechanicals, laundry facility and a second bathroom and storage area. For more details, availability and showing information; please call. 763-548-1444. Thank you. Have a great day.
MLS#
4569
$164,900
3
Bed,
2
Bath
4569 Grimes Avenue North
Minneapolis MN, 55422
Frank DAngelo Broker of Record
EXIT REALTY NEXUS
763-548-1444
WIKI ROBBINSDALE MN INFORMATION
Unique Home For Sale: 17080 Gage Way Farmington, MN 55024
Click For Listing Website
Click For Interactive e-Tour
Traditional 2 Story 4 Bedroom Home For Sale on the Lakeville/Farmington Border. This Dodd Park home is situated on a corner lot with a 2 car attached garage, concrete driveway, 4 bedrooms on the upper level with the ability to build your own equity in the unfinished lower level. For details, showing requests or availability. Please call 763-548-1444. Thank you. and have a great day.
MLS#
4467949
$229,900
4
Bed,
3
Bath
17080 Gage Way
Farmington MN, 55024
Frank DAngelo Broker of Record
EXIT REALTY NEXUS
763-548-1444
Great Home Starter For Sale: 11631 Juniper Street NW Coon Rapids, MN
Click For Listing Website
Click For Interactive e-Tour
This 3 Bedroom remodeled home sits on an over-sized lot in Coon Rapids Minnesota. It's Conveniently located near Foley Boulevard and Northdale Boulevard. The yard is fenced and it includes a one and a half car garage as well. For details, access or mortgage qualifying questions; please call: 763-548-1444
MLS#
11631
$149,900
3
Bed,
1
Bath
11631 Juniper Street Northwest
Coon Rapids MN, 55448
Frank DAngelo Broker of Record
EXIT REALTY NEXUS
763-548-1444
Coon Rapids, Minnesota Wiki-Info
Lovely Home for Rent: 15627 Cornell Trail Rosemount, MN
Click For Listing Website
Click For Interactive e-Tour
Great Home For Rent in Rosemount. Available in May. This 3 Bedroom home is finished on all 3 levels. It includes a great open floor plan, great appliances including a washer and dryer and features two spacious living areas. For those interested in a Rent to Own option; this home qualifies for that as well. For more details, please call the listing agent at: 763-548-1444
MLS#
4465228
$1,4503
Bed,
2
Bath
15627 Cornell Trail
Rosemount MN, 55068
Frank DAngelo Broker of RecordEXIT REALTY NEXUS763-548-1444
Rosemount, Minnesota Wiki Info
Townhome For Sale 9091 Underwood Lane North Maple Grove MN 55369
Click For Listing Website
Click For Interactive e-Tour
Fabulous Maple Grove End Unit Townhome on a cul du sac. All living facilities are on the main level. Main floor master bedroom and laundry. Walkout patio door to open wet land. Maintenance Free living with great equity options and low association dues. Here are the bullet points of what the current home owners love about living here: -super close to shopping, library, health club, and Elm Creek Park Reserve -quiet neighborhood -the beautiful wetland area in back yard -main floor laundry -well maintained city -lots of biking, walking trails -association takes care of plowing and lawns -easy access to freeways -good association
MLS#
9091Underwood
$185,000
3
Bed,
2
Bath
9091 Underwood Lane North
Maple Grove MN, 55369
Frank DAngelo Broker of Record
EXIT REALTY NEXUS
763-548-1444
Maple Grove Minnesota Wiki Info
4BR Home For Sale at 515 Northeast Dogwood St NE Lonsdale, MN 55046
Click For Listing Website
Click For Interactive e-Tour
Fabulous Lonsdale home finished on both levels, full brick front elevations and an incredible 3 Car Dream Heated Garage which is ideal for entertaining and working. This home also has a spacious maintenance free deck, finished lower level with a corner fireplace in the family room/media room; two additional bedrooms a second bathroom and laundry room.
MLS#
4463158
$195,000
4
Bed,
2
Bath
515 Northeast Dogwood Street
Lonsdale MN, 55046
Frank DAngelo Broker of Record
EXIT REALTY NEXUS
763-548-1444
By now, many people are hearing a variety of reports associated with the SW Minneapolis Ward 13 Moratorium that actually provides a one year moratorium on the demolition, new construction, or establishment of single or two-family residential dwellings in the R1, R1A, R2, and R2B Zoning Districts in the neighborhoods of Linden Hills, Fulton, Armatage, Kenny and, Lynnhurst. Clearly, Council Member Linea Palmisano, who introduced the moratorium, has been catching a ton of criticisim regarding the moratorium from a variety of housing interest groups.
Council Member Linea Pamisano clearly did not want to publicize this in advance, nor did the City Council need to have a Public Hearing which would have likely initiated mass numbers of permits pulled and potentially under-mined the City's controls of regulatory devices they already have in place with the Community Planning and Economic Development (CPED). It appears the City Council was in dire need of controlling a potentially harmful situation for the Ward 13 residents. The moratoriums will fundamentally do one thing for the City officials and that is; it will buy them the time to further study the zoning code and determine whether it needs revisions or to further institute another moratorium to protect land use applications while further homes are demolished.
The inter-active graphic below illustrates immediate signs of the moratorium's impact on single family new construction home inventory in the Linden Hills neighborhood. Similar results in the other Ward 13 neighborhoods impacted by this moratorium.
Time will tell what the additional agendas (if any) were associated with this Moratorium.
Featured Executive Home For Sale in East Harriet
A HIGHEST PRICE VALUE ANALYSIS for your home determines the highest price possible at the best time possible. This is not a market analysis which focuses on the past; this is a HIGHEST PRICE POSSIBLE for today or for when you would ideally like to make your move or EXIT!
Whether you need this value for the purpose of insurance, or for selling, or for your own personal curiosity, we can help you. We will not even bother you or your tenant for a preview or tour. Of course, a more precise HIGHEST PRICE VALUE ANALYSIS will require a personal tour by Frank D'Angelo or the Residential Specialist on his team who specializes in your neighborhood, also at no obligation!
GET YOUR HIGHEST PRICE ANALYSIS HERE!
The home buying experience can turn into a sequence of surprises for many people; including first time home buyers and buyers who purchased real estate more than 5 years prior. There are several potentially hidden surprises which are typically associated with the the home buyer who only receives limited information or just what they think they need to know based on what their friends or parents tell them.
For example. Many home buyers start with obtaining a financial analysis or approval from a lender to determine the size of their wallet before beginning their pursuit of real estate. That's a great start; however there are typically a number of additional areas that will dip into the home buyers pocket during the home buying experience and can typically become a financial night mare or surprise. Here are the common areas that seem to catch many home buyers off guard during the home buying process:
EARNEST
- Earnest is often considered a deposit when submitting a purchase offer to purchase real property. Earnest doesn't have to be in the form of money or a check; however the majority of the time, earnest is in the form of a check and is typically in the range of 1-3% of the Sale Price on the Purchase Agreement. That earnest deposit can be applied to the down payment committment when utilizing a loan product to purchase. That earnest can also be refunded to the buyer with any of the contingencies associated with the purchase agreement; such as inspections, appraisals, right of resission and other contingencies.
Home Inspection(s) and Remedies
- Home inspections are typically a huge surprise for first time home buyers purchase a home with near zero down payment options. Home inspectors typically charge an up-front fee ranging from $300 for smaller properties to $500 and $750 for larger estates.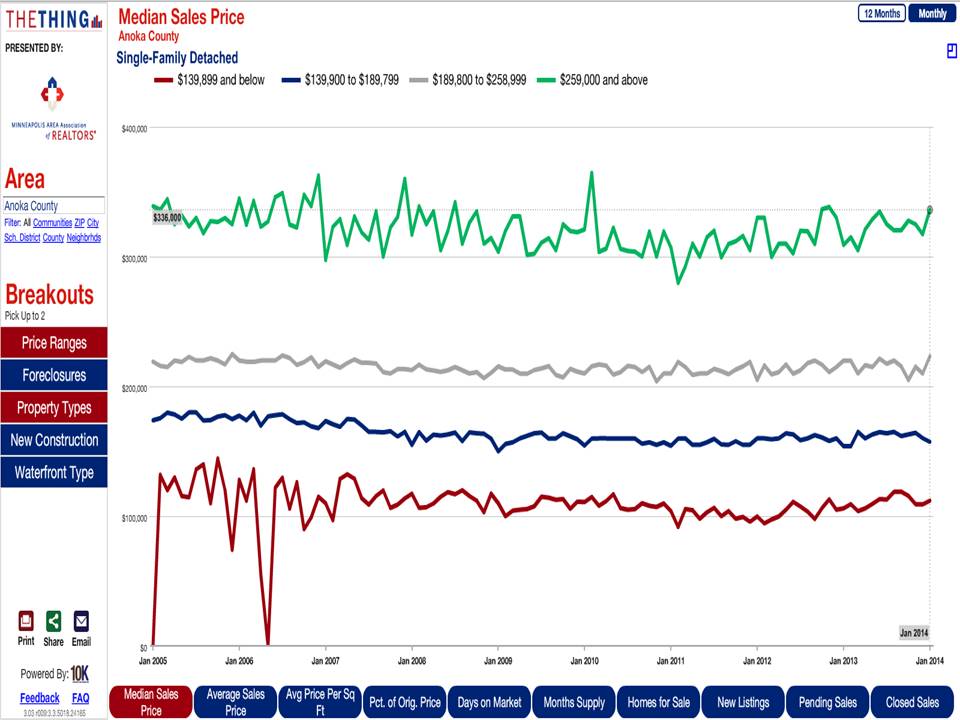 Anoka County Single Family Detached Home sales and prices have fluctuated monthly and seasonally over the past 10 years. The chart below provided from the Minneapolis Association of Realtors displays the 10 year history of the Median Sale Prices of single family detached homes. Looking to the most recent portion of the time lines; there appears to be an upward push in home prices over $200,000; while the homes priced below $200,000 appear to be flat or in a seasonal lull. Seasonal lull's are being recorded throughout the state with the impactful weather.
Looking deeper into the Anoka County; it appears the up-tick pricing in homes over $200,000 are mostly from the New Construction closings predominantly in Andover and Blaine, MN.
Wondering What Your Home is Worth Now? Try this!
Older Posts